ACCESSABILITY HOME MEDICAL PRODUCTS Offers Bathroom Safety products, Medical Equipment, Medical Supplies and more for Southeast Wisconsin, Milwaukee and surrounding areas.
Call us Toll FREE at (844) 837-2869
Bath Tub Safety Products
From bath tub safety products to Commodes, Shower Chairs and more we have an extensive selection of home-care accessibility products to serve your needs. Whether you are in need of a temporary solution or are looking for support in the long term, AccessAbility Home Medical & Rehab can help. Call our headquarters location in Cudahy, Wisconsin at 877-486-9900 or visit one of our 3 store locations throughout the Milwaukee and Southeast Wisconsin area today!
A Sampling Of Bath Tub Safety Disability Aids Shown Below
Please note that all products shown below are just a representation of what we have available in our accessibility stores. Some products may require special ordering, and we have specialists available at all store locations to assist you with finding the right bath tub safety disability aid to suit your needs.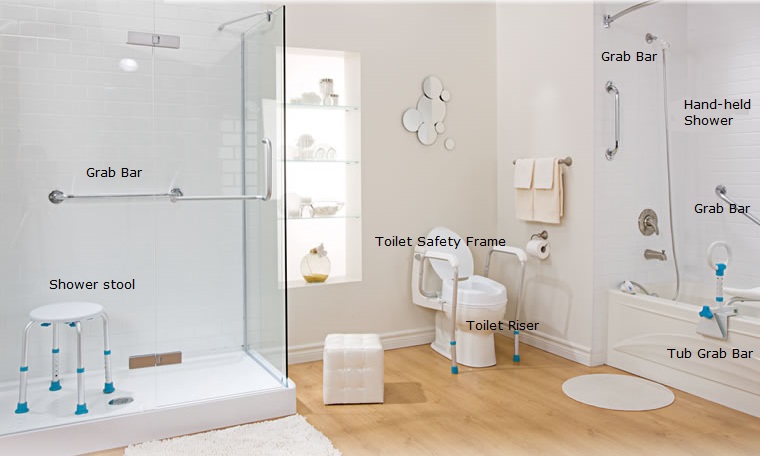 Bath Boards
Provides a foundation for all your daily hygiene needs
Non-slip seat surface with hand grips for added safety
HMESA CODE: 40-20-02-01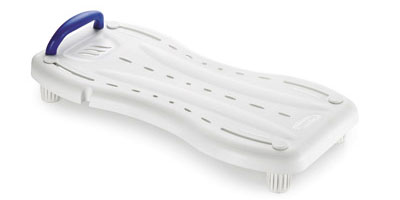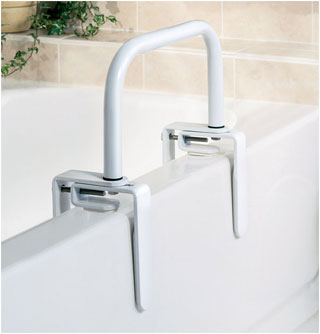 Bath Tub Safety Rails
Double-sided clamps won't mar tub surface
Adjustable mounting brackets to fit most standard size tubs
UNSPSC Code: 42211608 / HPIS Classification: 630_20_30_0
Bath Tub Grab Bars
Step-through clamp design provides better hand positioning
Tool-free installation features stainless steel components and pads that won't mar tub surface
HPIS Classification: 630-20-30-0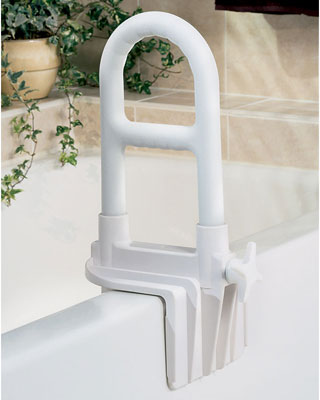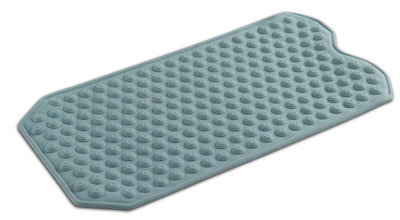 Bath Mats
Non-slip surface for a secure hold
While bathing or showering
HMESA CODE: 40-20-02-04
Commode Safety Rails
Provides support for sitting and standing from the commode
HPIS Classification: 630_20_30_0 / UNSPSC Code: 42211608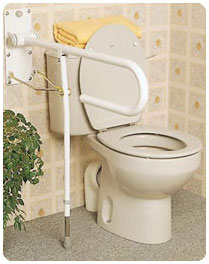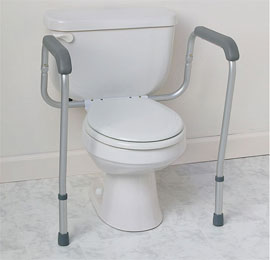 Commode Safety Frames
250 lb. capacity, provides support for sitting and standing from the commode
HPIS Classification: 520_190_0_0
Floor-Mounted Folding Rails
Provides support for entering and exiting the bathtub
HPIS Classification: 630_20_30_0 / UNSPSC Code: 42211608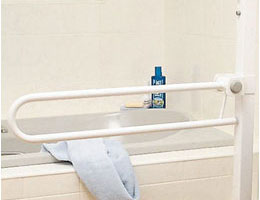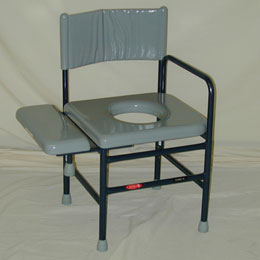 Folding Tub/Commode Chairs
Many options available
250 lb. capacity
Tub/Commode Chairs
Many options available
250 lb. capacity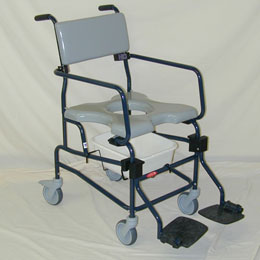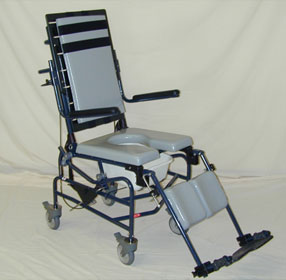 Reclining and Non-Reclining PVC Shower Chairs
Ideal for bathing and showering as PVC won't rust or fade
HPIS Classification: 770_50_60_0 / UNSPSC Code: 42211610
Tilt-In-Space Shower/Commode Chairs
Additional styles and options available
350 lb. capacity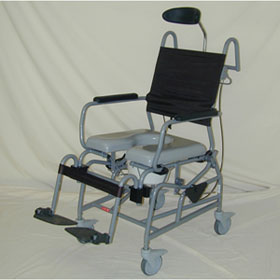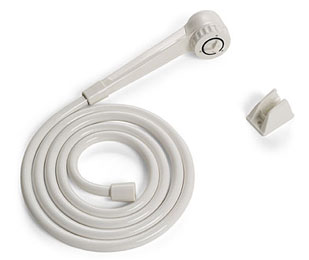 Adjustable Hand Shower
Adjustable shower head provides a choice of fine, firm or pulsating spray
Comes standard with 7′ nylon reinforced hose
HMESA CODE: 40-20-02-05
Padded Shower Benches
350 lb. capaicty, helps with difficulty sitting or standing in shower
Non-slip rubber feet with adjustable-height legs, extra-thick padding on seat
HPIS Classification: 770_50_60_0 / UNSPSC Code: 42211610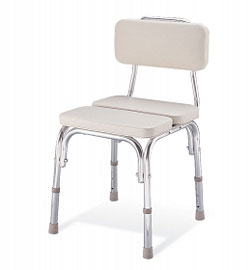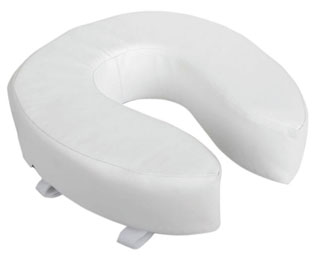 Padded Toilet Seat – 4″ High
Raises a standard toilet seat by 4″
HPIS Classification: 630_10_100_0 / UNSPSC Code: 42211615
Shower/Bath Benches with Back
For patients who have difficulty standing and sitting
Non-slip rubber feet with adjustable-height legs
HPIS Classification: 770_50_60_0 / UNSPSC Code: 42211610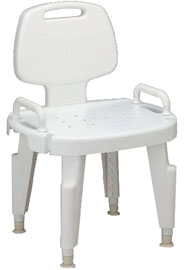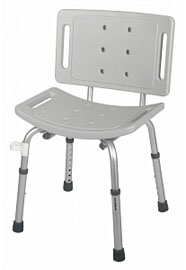 Shower Chairs With Back
250 lb. capacity, made from high density, polyethylene with built-in hand grips
Angled legs improve stability
HPIS Classification: 770_50_60_0 / UNSPSC Code: 42211610
Shower Benches
250 lb. capacity, provides easy access and maneuverability when bathing
Non-slip, rubber feet with adjustable-height legs
HPIS Classification: 770_50_60_0 / UNSPSC Code: 42211610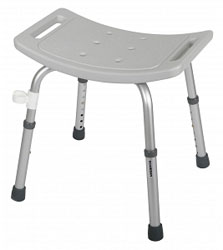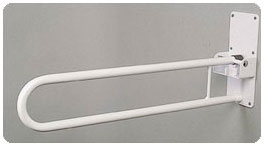 Wall Mount Support Rails
Easily mounts to the wall
HPIS Classification: 630_20_30_0 / UNSPSC Code: 42211608
Assorted Wall Mount Grab Bars
Sturdy design made from durable heavy-duty-steel tubing
white powder-coated finish
HPIS Classification: 630_20_30_0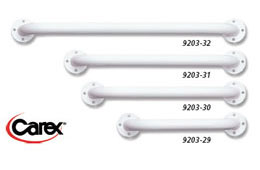 Wall Mount Grab Bars
White painted steel with white screws
Suitable for use in the kitchen, bathroom, stairways or laundry room
HPIS Classification: 630_20_30_0 / UNSPSC Code: 42211608