ACCESS ABILITY HOME MEDICAL PRODUCTS Offers Manual Wheelchairs, Wheelchairs, Manual Wheelchair Rentals,Wheelchair rentals, Medical Equipment, Medical Supplies, and more for Southeast Wisconsin, Milwaukee and surrounding areas.
Call us Toll FREE at (844) 837-2869
Manual Wheelchairs
We carry Invacare, Medline, Sunrise/Quickie and Drive Medical brands of Manual Wheelchairs.
Call us today and we will be happy to assist you with finding the right wheelchair that suits your individual needs. Our toll free number is (844) 837-2869 or visit one of our store locations nearest you.
A Sampling Of Our Manual Wheelchairs Is Shown Below
Please note that all wheelchairs pictured are just a representation of what we have available in our accessibility stores. Some may require special ordering, and we have specialists available at all store locations to assist you with finding the right manual wheelchair to suit your individual needs.
Standard Manual Wheelchairs
AccessAbility offers a wide selection of standard manual wheelchairs by leading manufacturers.
Standard wheelchairs typically weigh over 35 lbs. without the front riggings,have a seat width and depth between 16 and 20 inches, and have fixed or detachable armrests.
Most support up to 250 lbs. weight.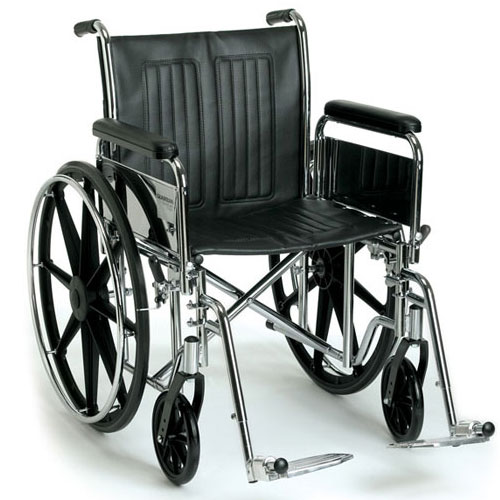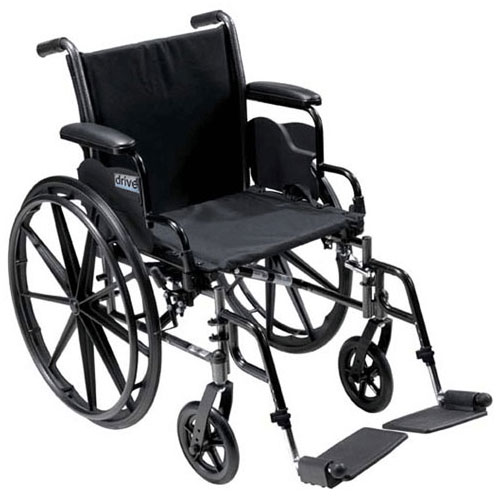 Lightweight Manual Wheelchairs
AccessAbility offers lightweight wheelchairs that typically weigh as little as 28 to 34 lbs. and are made for a wide range of uses and needs.
Folding Ultra Lightweight Wheelchairs
Made for those who need to transport their wheelchair behind the seat of their car or require swing-away legrests without sacrificing weight or performance.
These wheelchairs offer the benefits of a rigid wheelchair with the convenience of being able to fold up with just a tug on the seat upholstery.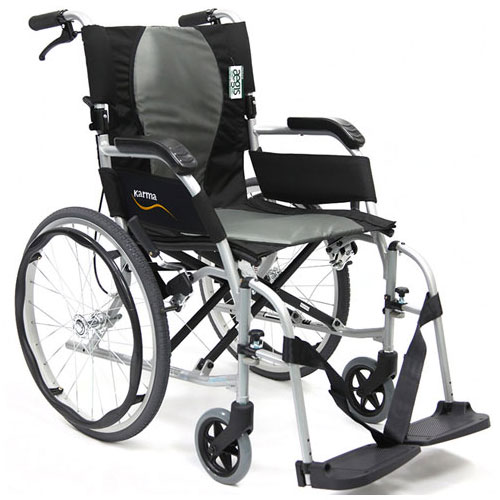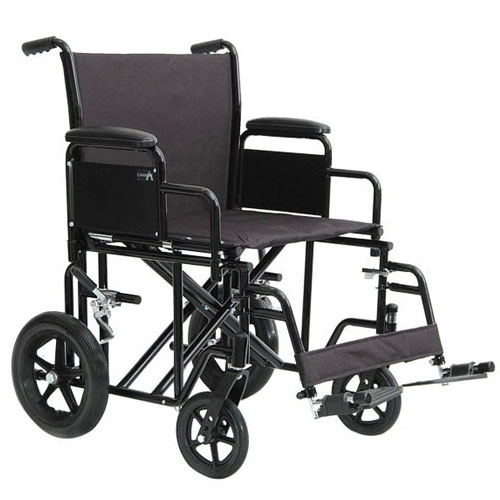 Heavy-Duty Bariatric Manual Wheelchairs
Heavy-duty wheelchairs have a higher weight capacity of up to 600 to even 1000 lbs.
They provide patient comfort as well as more room and as nice a ride as any of the regular-size standard wheelchairs.
Reclining Wheelchairs
A wide selection of Reclining Wheelchairs offering hydraulic reclining operation and up to 180-degree reclining options.
Padded headrests, arms, legs and seats add to patient comfort and safety.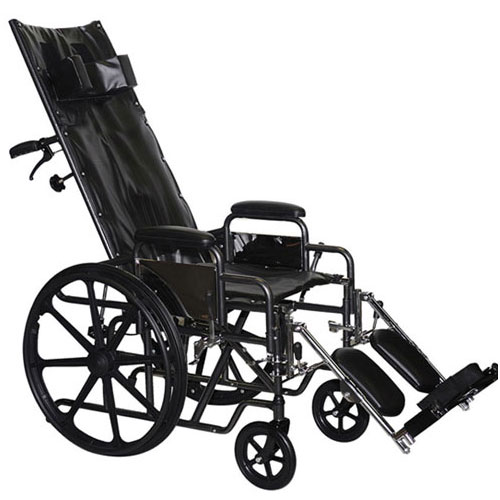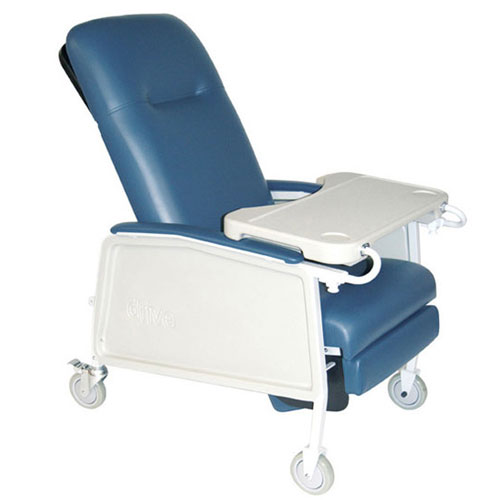 Geri Chairs
The Geri Chairs are durable and designed to provide seating support in a comfortable chair that is moveable.
Many styles offer multiple reclining positions in addition to padding throughout.
Caregivers can easily move these chairs around the house or around the room while leaving the user undisturbed.
Rehab Shower Commode Chairs
A wide selection of convenient Rehab Shower Commode Chairs available.
Choose the size that is right for your needs.
Some models feature swing-away armrests and footrests for convenient transfers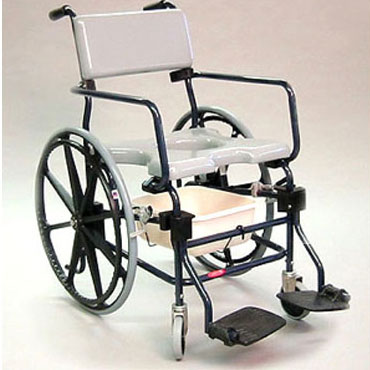 K2B WHEELCHAIRS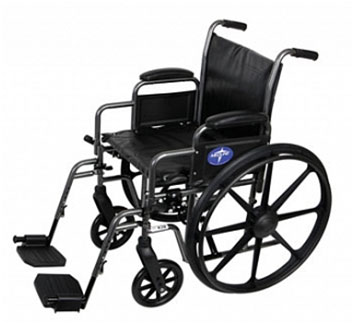 The Ultra-Durable, Long-Lasting, Smart Value Chairs
Smart Design. Smart Choice.
Looking for a quality-built, durable wheelchair that's easy on your budget? We invite you to try the all new K2B wheelchair.
K2B is built to last. The smart design features tig wielding for added frame strength and three layers of reinforced upholstery, our solution to seat sagging. Plus, we added a hammer-tone chip-resistant finish to keep the chair looking newer, longer.
Features
What makes the K2B a smart choice?
Tig wielding provides frame strength for added durability
Three layers of reinforced upholstery
Hammertone, chip-resistant finish
Brass inserts prevent stripping of upholstery screws
Available in seat widths 16 in, 18 in or 20 in
Optional Accessories
K4 Extra-Wide Lightweight Wheelchairs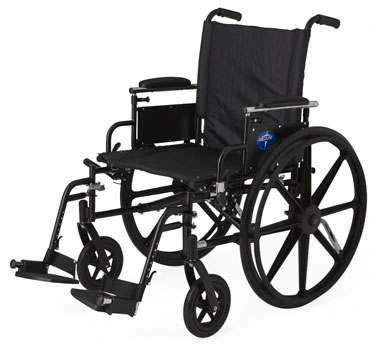 Swing back arms with easy flip back arm release.
Armrests and calf pads are upholstered and padded.
Quick release axles allow tool-free removal of rear wheels.
Dual axle hemi-height adjustable; Adjustable height back.
Tough nylon upholstery.
Arm styles available: swing back desk length and swing back height adjustable desk length; Leg style: detachable footrest and detachable elevating footrest.
Seat sizes come in: 20″ x 18″ (51 cm x 46 cm) and 22″ x 18″ (56 cm x 41 cm).
Optional accessories: O2Holder (item MDS85181U), Anti-Fold Device (item MDS85196), I.V. Pole (MDS85183), O2/I.V. Combo (item MDS85190), Anti-Tip Device (item MDS85189WK4), Seat Extension Kit for 18″ wide only (item WCA806922EXT),TinnermanLegrest Locks (item WCA806991).
Quickie 2 Family
Folding Wheelchair
ACCESSABILITY Home Medical Products carries the ONE and only folding wheelchair
Versatile, modular, and available in an endless number of configurations, the Quickie® 2 has been the industry's favorite ultra lightweight manual wheelchair for over 25 years.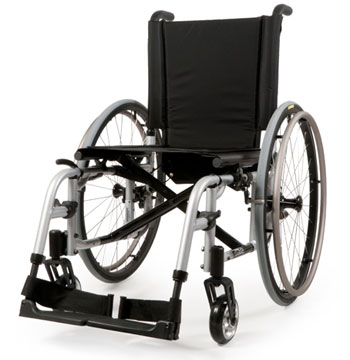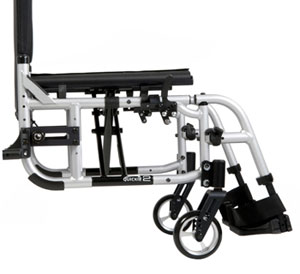 Modular Frame Design
The versatility of the Quickie 2 is in its modular wheelchair frame that adapts with you as your function, body, and environment change. Independent, interchangeable frame components accommodate changing conditions without having to replace the entire wheelchair. You're always getting the best from your Quickie 2.
Endless Options
With more options for rear wheels, casters, armrests, hangers, and footrests, and more opportunities to customize frame angles and measurements, the Quickie 2 wheelchair is built to be an extension of you. Choose from the depth-adjustable or angle-adjustable backs, Quickie Xtender™ Power Assist wheels, or the new zero-maintenance 5-Spoke Mag wheels. A pound lighter per pair than the traditional 6-spoke mag, this option features a closed spoke design to prevent debris build-up and is available at no charge.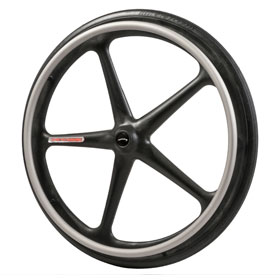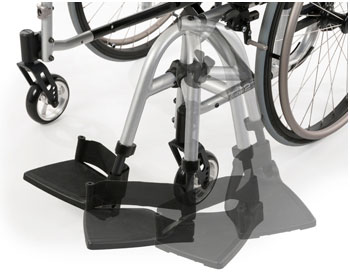 Intuitive Hanger Designs
The Quickie 2's new Swing-in/Swing-out hanger (pictured left) design features an intuitive bi-directional release lever that follows your hand's movement and a tapered locking mechanism that prevents loosening over time. The Elevating/Articulating Legrest includes 2″ of height adjustment to better align with the knee joint for a natural motion. Audible clicks index its position as it is elevated. The new hemi frame that aligns with the seat rail, when combined with the new hemi hanger, allows for 1/2″ lower front seat heights.
Quickie 2 Lite and HP™ Options
Love the Quickie 2, but looking for something with an edge? The Quickie 2's minimalist counterpart, the Quickie 2 Lite, features an extremely lightweight, modular wheelchair frame with a rounded rear for unique style and either fixed or swing-away front hangers. The Quickie 2 HP™, or High Performance, was built for an active user looking for the most rigid ride available from a folding frame.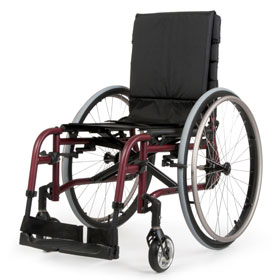 Cruiser X4 Wheelchair
Lightweight, Dual-Axle Wheelchair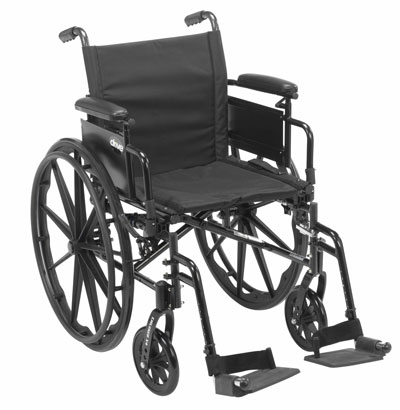 Description
Don't let mobility challenges keep you from getting out and experiencing all life has to offer. For many people, a manual wheelchair from ACCESSABILITY HOME MEDICAL PRODUCTS is the ideal solution to maintaining mobility independence. Manual wheelchairs are among the most commonly used mobility devices thanks to their versatility, functionality, ease of transport and low maintenance. The Cruiser X4 from Drive Medical offers all these features and more. The Cruiser X4 is ultra-lightweight, yet extremely strong thanks to its aluminum and carbon steel frame which is specially designed to allow for custom seat backs and accessories and includes our patented adjustable-depth seat. The rear wheels can be quickly and easily moved between three separate axles to adjust the seat to the ideal height for the user or to angle the seat back. Other comfort adjustments include armrest height, seat back height and the height and angle of the front caster wheels-all allowing you to tailor the Cruiser X4 to your specific needs. The Cruiser X4 also offers a one-of-a-kind wheel lock system that provides a folding extendable handle to make locking the rear wheels easy-even for those with less hand strength.
The Cruiser X4 is available with either swing-away footrests or elevating leg rests (ELRs), which are a necessity if you suffer from a condition such as edema, phlebitis, varicose veins or just tired legs. You can also choose 16", 18", 20" seat widths for a chair that fits you to a "T". And all Cruiser X4 models include a lifetime warranty on the frame.
COUGAR ULTRA LIGHTWEIGHT REHAB WHEELCHAIR
Ultralight Aluminum Wheelchair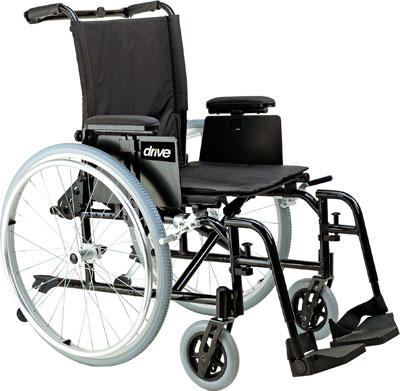 Model # AK516ADA-AELR, AK516ADA-ASF, AK518ADA-AELR, AK518ADA-ASF
Ultra-light, weighs less than 27 lbs. (K0005).
Forward folding back to reduce size.
Tool-free back height adjustable from 17″–20 ½".
Seat depth adjustable from 16″-18″.
Multi-position back can adjust 15°.
Rigidity bar provides support.
Quick-release rear wheels.
Semi-Pneumatic tires on a 24″ spoke wheel provide a smooth, true roll.
3″ of depth adjustment in the overall wheelbase.
Front casters are angle adjustable and height adjustable in three positions.
Arm rest can be flipped allowing 2″ width adjustment.
Nylon upholstery is breathable, lightweight and comfortable.
Back folds forward for storage.
Adjustable aluminum wheel locks.
Swing-away footrests swing in and out.
Lightweight, composite foot plates with heel loops come standard.
Optional adjustable height arm. (sold separately)
Call Us Today for Pricing and

FREE DELIVERY