ACCESSABILITY HOME MEDICAL PRODUCTS Offers Commodes, and Bariatric Commode Rentals, Medical Equipment, Medical Supplies, and more for Southeast Wisconsin, Milwaukee and surrounding areas.
Call us Toll FREE at (844) 837-2869
Bariatric and Standard Size Commodes
AccessAbility Home Medical & Rehab stocks a wide selection of convenient items for personal use. Our products are available for sale and in some cases can be carried home right from our stores throughout Southeast Wisconsin. Whether you are faced with a permanent or temporary situation that requires the use of aids for daily living, we can help. Our knowledgeable staff is up to date on all the latest styles and features of a range of accessibility products and services.
Below you will find just a small sampling of products available at our retail store locations serving Cudahy, Glendale, Milwaukee and surrounding towns in Southern Wisconsin. Suitable for bath and shower and portable for any room in the home, our products are both safe and reliable.
A Sampling Of Our Commodes For The Disabled Is Shown Below
Please note that all products shown below are just a representation of what we have available in our accessibility stores. Some products may require special ordering, and we have specialists available at all store locations to assist you with finding the right commode to suit your specific disability requirement.
Bariatric Commodes
Extra-wide 650 lb. capacity
HCPCS CODE: E0168;
HMESA CODE: 40-30-01-03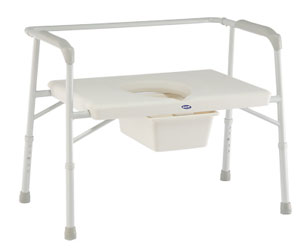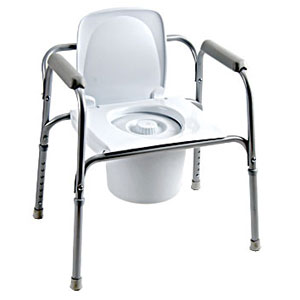 Aluminum Commodes
300 lb. capacity, can be used bedside
HCPCS Code: E0163
HMESA Code: 40-30-01-03
All-In-One Commodes
300 lb. capacity, can be used bedside
HCPCS Code: E0163
HMESA Code: 40-30-01-03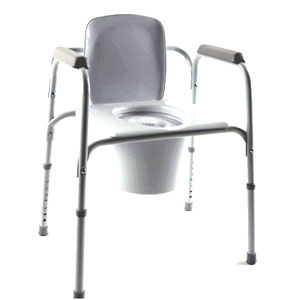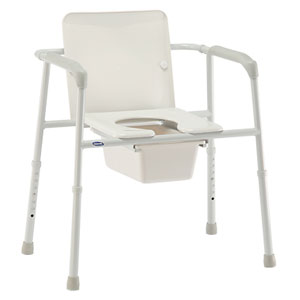 Heavy Duty Commodes
450 lb. capacity, designed for bedside use
HCPCS Code: E0168
HMESA Code: 40-30-01-01
Safeguard Commodes
300 lb. capacity, can also be used as a raised toilet seat
HCPCS Code: E0163
HMESA Code: 40-30-01-02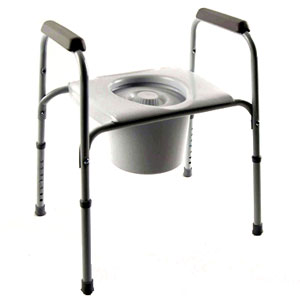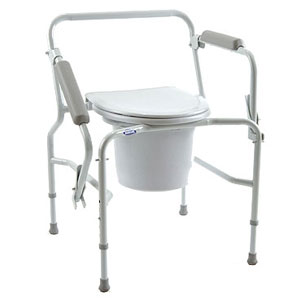 Drop-Arm Commodes
250 lb. capacity, can also be used as a raised toilet seat
HCPCS Code: E0165
HMESA Code: 40-30-01-02
Folding Commodes
300 lb. capacity, folds up in seconds for easy storage
HCPCS CODE: E0163;
HMESA CODE: 40-30-01-02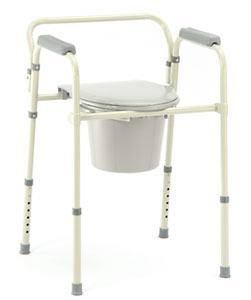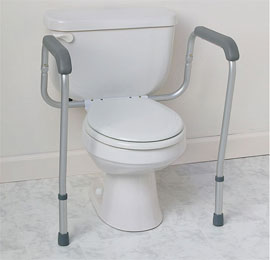 Commode Safety Frames
250 lb. capacity, provides support for sitting and standing from the commode
HPIS Classification: 520_190_0_0